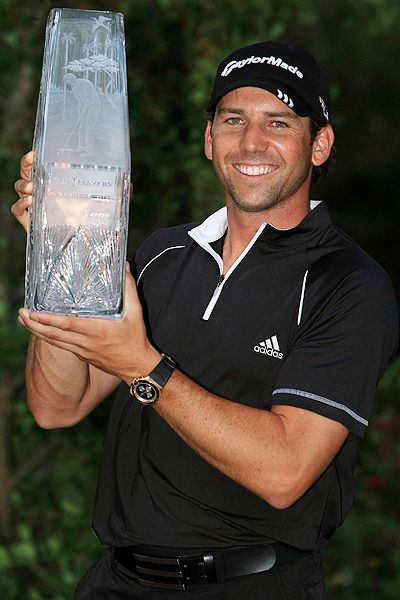 You name it, he's tried it.
Long putters, short putters, mallet putters, blade putters. Sergio Garcia has been the Dr. Seuss of putters and putting styles over the last several years as it became painfully clear that if he ever wanted to win a big tournament he had to figure out a way to put the ball in the hole.
So as the final round of The Player's Championship unfolded, it seemed only a matter of time before the flat stick let him down again in a crucial moment.
However it was that seemingly inescapable reality that made Garcia's playoff-forcing putt on the 18th green just that much sweeter for those of us who have long hoped for him to realize his immense potential.
Once that putt dropped and tournament leader Paul Goydos bogeyed 18, it seemed to be a foregone conclusion that this would finally be Sergio's time. And indeed it was as Garcia stuffed his tee shot on the first playoff hole and walked away with his biggest win to date.
Since he burst onto the scene at the 1999 PGA Championship, the golfing world has waited for the Spanish sensation to finally break through and take his place among the best golfers in the world. But until now it seemed like all that potential would be wasted thanks to his inability to make a putt under pressure.


Time and time again Garcia has come up short in the biggest tournaments despite his glorious ball-striking skills that most in the know will tell you are second to none on the PGA Tour.
Interestingly, Garcia's greatest triumphs prior to Sunday came at possibly the most pressure packed of tournaments, the Ryder Cup. It was in those moments where the exuberance of his game has been able to shine through as he has performed with the feel and energy that made him a star.
That's what we love about Sergio, the energy. OK, so his Adam Scott-type eye candy galleries are nice too, but when it comes to what happens inside the ropes you can't help but be drawn to his game.

So when it was reported the Garcia had gone back to the putter he used as a teenager it seemed only fitting that he would be able to lift his game to the heights that so many had seen on his horizon.

Perhaps no one in the world hits it better tee-to-green than Garcia (apologies to Tiger), and those skills were on full display at this past weekend as he led the field in fairways and greens hit, including a stunning third round performance in which he hit every single fairway on the TPC of Sawgrass' treacherous layout.

Detractors will point to the absence of Woods as a major factor in Garcia's ability to win The Player's Championship, and Garcia himself thanked the world's best player for not being there. But what I saw on Sunday was the young Sergio, the confident Sergio who can play with anyone in the world, including Woods.




With most of golf's biggest stars going dim in the presence of Woods time and time again, one can only hope that quite possibly the most talented of the bunch may have finally found himself just in time to make a run at number one.

Watch out Tiger, Sergio is back.