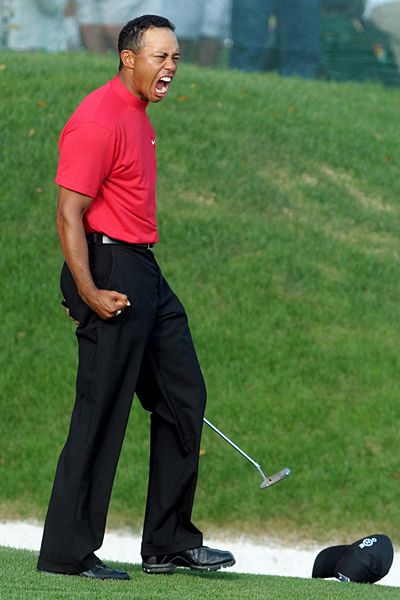 Just when you think you've seen it all from Tiger Woods, he does something that defies whatever explanation of his exploits that you may have had before.
Such was the case Sunday afternoon when the world's number one player captured his fifth straight PGA Tour win, and seventh in a row overall, by sinking a 25-foot, downhill left-to-right slider on the 18th hole of the Arnold Palmer Invitational.
As the tournament host watched from greenside, Woods erupted into a never-before-seen from him celebration, complete with a slam of his hat, a la Fred Funk (shouldn't he owe the Funk-ster a royalty check for that?), and bicep-flexing crowd-pump (I just made that up).
Meanwhile his closest competitor, 45-year-old Bart Bryant, could only chuckle in awe as he watched his hopes of qualifying for the Masters swallowed up by the all-encompassing force that is Tiger Woods.
You have to feel for Bryant who became the first player not named Phil Mickelson in quite some time stand up to Woods shot-for-shot on a Sunday.
Throughout Sunday's final round as players like Vijay Singh and Sean O'Hair made crucial mistakes, it was Bryant who played nearly mistake-free golf in very Tiger-like manner, forcing Woods to make birdie on a hole that had surrendered only four up to that point in the round.
Early on in the tournament Tiger by his own admission was struggling to find his swing and it seemed he would finally be a bit of a non-factor in a tournament. Don't forget that it was at this same tournament last year that he limped down the stretch with a backside 43 on Sunday while Singh took home the trophy.
But instead of putting him in a hole on Saturday, the rest of the field allowed Woods to ride an up-and-down round of 66 into a tie for the lead heading into Sunday. That mistake would of course prove fatal to the field's chances.
Honestly though, should we be surprised? Should it come as some sort of shock that Woods once again proved why he is the most dominant athlete of our time (sorry MJ)?
Well no, of course not. But that doesn't mean that we can't gasp in awe of his overwhelming virtuosity and revel in the knowledge that as amazing as this latest moment was he will undoubtedly give us many more in the future.
I for one can't wait to see what's next.