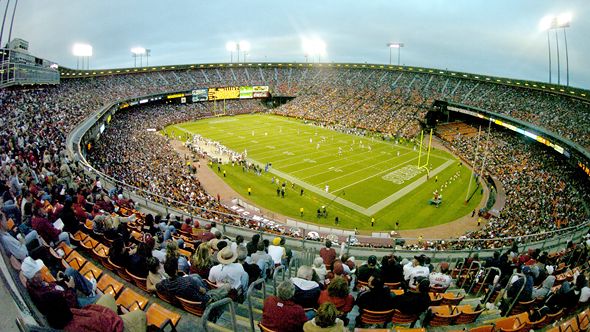 My childhood, like many who grew up around the country, was tied to a ballpark whose identity had as much to do with its name as it did with the team(s) who played there.
Wrigley Field, Yankee Stadium, Fenway, The Metrodome and the list goes on and on. But for me that park was know simply as Candlestick.
It's where the 49ers of the 1980's and early 90's dominated on their way to five Super Bowl wins in five tries and where my love for the San Francisco Giants was born. And while the Giants have since moved out and the Niners continue to try and do the same, the place has seen more than it's share of wonderful moments.
From Joe Montana and Dwight Clark starring in 'The Catch' to the first of Barry Bonds' five MVP seasons as a Giant in 1993, Candlestick was home to some of the greatest athletes and teams of all-time.
While it will never be the most visually stunning park, it's semi-impossible to get to bay-side location and subsequent havoc-inducing swirling winds adds to its charm and uniqueness. Hell, the thing survived the last big earthquake to hit the Bay Area in 1989. That has to count for something right?
Over the last several years naming rights for "The Stick" have been sold to various companies, most notably Monster.com which has held the rights for the last four years.
With Monster.com's contact running out the powers that be have finally decided to do what has always been best for the venerable old yard and will go back to calling it Candlestick once again. Not only that, but they've stated publicly that they will not pursue naming rights in the foreseeable future.
This news obviously came as music to my ears and I must admit tugged on the old heart strings more than a little bit.
Any sports fan over the age of 25 will tell you that all of the corporate-named stadiums, while ubiquitous, simply don't have the same kind of character and sentimental value as those listed above.
How much cooler does it sound to say, "lets go catch a ball game at Fenway," as opposed to, "lets go see a game at The Comcast Center"?
I'd say Fenway wins in Mike Tyson-esque, first-round knockout fashion.
So thank you to whoever made the decision to return to the rightful name of the ballpark of my youth. Now lets hope the 49ers themselves can turn back the clock and become a winner once again.