It's only fitting given how ridiculously crazy college football has been this year in terms of the standings, that the race for the Heisman Trophy is as wide open as I can ever remember it being.
No fewer than six guys have a legitimate argument that can be made on their behalf, and with exactly zero undefeated major conference teams (sorry Hawaii) there is no one on the Heisman radar who can claim "best player on the best team" honors.
Since not even I can decide who should win the Heisman, I've decided to make arguments for each and let you the reader vote for who you think should take home the big trophy.
Chase Daniel - QB - Missouri:
Anybody who watched Daniel dismantle the Kansas Jayhawks this past Saturday night, in a game the moved the Tigers in position to potentially play in the National Championship game, had to be impressed.
He showed poise, confidence and uncanny accuracy, going 40-of-49 for 361 yards and three touchdowns. Of course this is nothing new for Daniel who is completing over 70% of his passes through 12 games, including 36 touchdowns and only 10 interceptions.
Even more impressive than that has been Daniel's ability to raise his game late in the season with everything on the line. In his last four games Daniel is 121-for-169 for 1,418 yards with 15 touchdowns and only one interception.
Only once all season did Daniel throw more interceptions than touchdowns in a game. That happened in the team's lone loss to Oklahoma in mid-October, and in that game he was 37-of-47 for 361 yards.
If Daniel and Missouri can beat Oklahoma this week in the Big 12 Championship, it would be tough for me to say that Daniel's all-around performance from start to finish was not Heisman-worthy.
Tim Tebow - QB - Florida:
When you're the only player in the history of college football to throw for 20 touchdowns and rush for 20 touchdowns, that's pretty special. When you do it as a true sophomore in the best conference in the country you're downright scary.
Many believe that Tebow's gaudy offensive numbers and hard-nozed style has him positioned as the front-runner for the Heisman, and I can't say I disagree with that.
The one knock against Tebow however is how he performed against some of the toughest teams on Florida's schedule. In a loss to LSU Tebow's completion percentage was a paltry 46.2, and in a loss to Georgia he was held to minus-15 yards rushing; his only negative rushing day all season.
Outside of those two games however Tebow was brilliant, solidifying his status as arguably the most difficult player in the country to defend. At the age of 20 Tebow's legend grows larger by the day, and soon that legend may include a Heisman Trophy.
Darren McFadden - RB - Arkansas:
There are big games, and then there are statement games, and McFadden's performance in an upset win over top-ranked LSU was the ultimate statement game.
All McFadden did on that Friday night in Baton Rouge was rush for 206 yards and three touchdowns
and
go 3-of-6 passing for 34 yards and a touchdown. All against one of the best defenses in the country who knew going in that they had to stop #5.
Of course one game does not make a season, and in McFadden's case for the Heisman, nothing could be more true. Three times this season McFadden was given fewer than 20 carries in a game and still he managed to rush for 1,725 yards and 15 touchdowns.
Those numbers eclipse the numbers from his sophomore campaign when he was the runner-up to Ohio State QB Troy Smith in the Heisman voting.
If McFadden does indeed turn pro, as many have speculated that he will, there will be one statistic that should wow NFL scouts in their evaluation of the Razorback running back. Want a hint?
Think zero.
As in zero fumbles lost in three season in the SEC. That's 764 carries, 46 catches and 22 pass attempts without putting the ball on the ground. To me that's all you need to know about the best running back in the country and possibly the 2007 Heisman Trophy winner.
Colt Brennan - QB - Hawaii:
Fans of the run-and-shoot offense employed by Hawaii and head coach June Jones will remember fondly the last time a product of that system won the Heisman.
The year was 1989 and the player was Houston QB Andre Ware. That season Ware threw for 4,299 yards and 44 touchdowns on his way to the big prize.
While Brennan can't boast those type of numbers in 2007, the fact that his Hawaii Warriors are one win away from a perfect 13-0 season and a trip to a BCS bowl game has to count for something.
Of course that's not to say Brennan's numbers aren't impressive. Five times Brennan threw for more than 400 yards in a game in 2007, including a 495-yard performance in the season's biggest game for Hawaii this past Friday against Boise State.
Brennan was injured twice during the season and basically didn't play in either of those games (he did throw two passes against Nevada, but didn't start). Missing those two games will hurt Brennan's chances at winning the Heisman, but I for one think he's been impressive enough to deserve strong consideration for the award.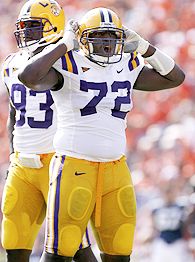 Glenn Dorsey - DT - LSU:
The Heisman Trophy is supposed to be awarded to the best player in the country and for my money the best player, regardless of position, is LSU defensive tackle Glenn Dorsey.
No defensive player has been a more consistent, disruptive force than the effervescent Dorsey who has spent more time in offensive backfields than some running backs.
With 61 total tackles and six sacks, Dorsey's numbers are hardly the type of jaw-dropping stats that usually win Heisman's. Add to that the fact LSU is no longer a factor in the National Championship picture and Dorsey is a long shot.
However if the Heisman committee is doing its job it will include Dorsey in the ceremony scheduled for December 8th. Of course Dorsey can always take comfort in the fact that he's likely to be a top-3 pick in next April's NFL Draft.
Pat White - QB - West Virginia:
Like Chase Daniel at Missouri, West Virginia's rise to the top of the BCS standings can only help the Heisman chances of their dual-threat quarterback Pat White.
Of all the quarterbacks on this list White is clearly the best runner by virtue of his 1,144 yards on the ground with one game left to play. Conversely he is by far the least effective passer of the bunch.
White's completion percentage has gone up and his interceptions have gone down since 2006, a sign that he is becoming a better passer. And his 26 total touchdowns are impressive. But White's true value comes in his ability to guide his team to within one win of a berth in the National Championship.
White may have to wait a year before he wins a Heisman because of the competition this year, but his role in the elevation of the Mountaineer program deserves recognition, perhaps with a big, stiff-arming trophy.
So there it is, that's the list. You've noticed that I've included a second poll to go along with this article. Feel free to voice your opinion on this year's Heisman race.