Greetings to all. I would like to personally thank Adam for allowing me to join the site and share my thoughts. Let it be known that I bleed Viking purple however I will not allow that to interfere with any topic I do decide to cover, will take a professional approach to the site and offer as much of my knowledge as possible. I hope you enjoy!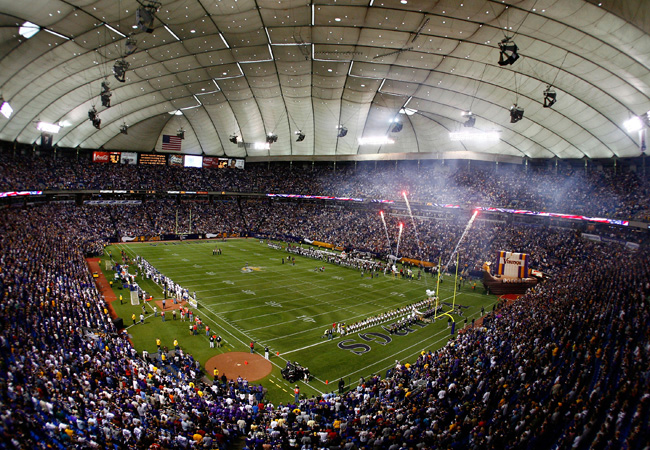 I would like to debut by analyzing week 8's NFL matchups. This week offers some intriguing matchups as well as some possible snoozers. Let's take a look.

Teams on bye: Bengals, Buccaneers, Patriots, Redskins, and Steelers.

Seahawks (2-4) at Cowboys (4-2)

I entered this season with a couple of thoughts about each team. First, I thought the Seahawks were set to regain NFC west prosperity and get back to the post-season, however a lingering rib injury to quarterback Matt Hasselback slowed down that possibility. Second, I was a believer that the Dallas Cowboys were slightly overrated. The departure of Terrell Owens may have brought some unity to the club, but there is no denying that the man produced on Sundays and made this team a viable contender. There are a few important factors to consider for Sunday's game.

Seattle is coming off of a bye and are still trying to find some consistency. In Seattle three weeks ago, Hasselback returned from injury to throw 4 touchdown passes as Seattle routed the Jaguars 41-0. The following week Seattle hosted the Cardinals and had serious trouble moving the ball as they lost 27-3 to the reigning NFC champs. I am a believer that the Seahawks do possess an effective passing game, but the running game is holding them back.
Dallas on the other hand is on a two game winning streak and is coming off a very impressive victory over the Atlanta Falcons. Dallas is relatively healthy as they had their bye wedged in between their victories over the Chiefs and the Falcons. Romo is spreading the ball around nicely and wide receiver Miles Austin is emerging as a legitimate big play threat. Felix Jones returned last week to give Dallas a three headed attack in the running game and hybrid linebacker Demarcus Ware is getting to the quarterback after being held in check early in the season.
My Take:
I like Dallas at home in this one. Although Seattle has played solid defense this season despite numerous injuries the balanced attack of Dallas may be too much to overcome. The Cowboys defense should be able to hold Hasselback in check. I think Romo gets it done in this one, but it may be closer than one might think.
Broncos (6-0) at Ravens (3-3)

This would contend for my second favorite game of the weekend. The undefeated Broncos are coming off a bye week unblemished. Lead by stingy defense and a quarterback who
refuses to turn the ball over; my favorite thing about this team is their coach. Josh McDaniels refuses to lose and has a nack for getting his team in position to win.
Baltimore is also coming off their bye but more notably coming off two crushing losses. Three weeks ago Baltimore held a lead over division rival Cincinnati only to relinquish it with seconds to go as Carson Palmer hit Andre Caldwell for the game winning touchdown. In week 6 the Ravens overcame a 17 point fourth quarter deficit to lead the Vikings late, but one deep throw from Favre to Sidney Rice and one missed field goal by kicker Steven Hauschka sent the Ravens home wondering what they must do to get a W.
My take:
I refuse to believe that coach Josh McDaniels won't have his Broncos ready to play and improve on their 6-0 record. Their balanced attack on offense keeps defenses honest and wide receiver Brandon Marshall is a beast outside. However, the emergence of Joe Flacco and Ray Rice could be the difference in this one. In only his second year Flacco is looking like a pro bowl quarterback. Running back Ray Rice offers game changing ability in both the running and passing game; if you don't believe me ask coach Brad Childress and the Minnesota Vikings. The Ravens defense may not be what it once was but they should have enough to slow the Broncos and pull out a victory. The final in this one may be ugly but I like the Ravens to get it done, but I say that with little confidence.
Texans (4-3) at Bills (3-4)

There
are few teams in the NFL that possess the potency on offense as the Houston Texans. Quarterback Matt Schaub is playing as well as any, and Andre Johnson, Steve Slaton and Owen Daniels make this offense virtually impossible to stop.
Buffalo is a team that seems to give sports fans fits. The Bills very easily could be 5-2 right now if it weren't for a week 1 collapse against Tom Brady and the Patriots, as well as an embarrassing week 5 defeat to Cleveland in which Derek Anderson completed 2 passes. Buffalo is banged up. Quarterback Trent Edwards has already been ruled out for a second straight week, Leodis Mckelvin is on IR, and safety Donte Whitner has missed two of the last three games including the most recent.
My take:
Buffalo has been pesky. Most would not have picked the Bills to beat the Jets and Panthers on the road the last two weeks. I will continue to doubt the Bills this week as I do not believe they employ the talent to match up with the Texans. With Ryan Fitzpatrick at the helm, as well as the inability to get Terrell Owens the ball, the Texans 21st ranked defense should be satisfactory. Houston's offense should have few problems moving the ball. Expect Slaton to have a nice afternoon and for the Texans to light up the score board with numerous big plays.
Browns (1-6) at Bears (3-3)

The Browns are putting up a fight as to who is truly the worst team in the NFL. Although they have registered a W, no team in the league has consistently showed the inability to move the ball on offense, nor stop the ball on defense. The Browns currently rank 31st in total offense as well as 32nd in total defense.
The Bears have faltered in their past two games, losing to both Atlanta and Cincinnati on the road. Here's the problem. In Atlanta, one may argue they should have won the game if it was not for two red zone turnovers
.
Against the Bengals, the Bears were embarrassed. They continued to have zero running game and allowed 5 touchdown passed to Bengals quarterback Carson Palmer. Chicago has talent and quarterback Jay Cutler has not disappointed in his ability to throw the football, but he must start to take care of the football better. He has 10 interceptions in 6 games.
The most troubling aspect of the Bears has been the inability to run the football. Matt Forte as a rookie rushed for 1,238 yards
,
but so far this season he has rushed for only 318.
My Take:
The Bears should have little trouble this weekend regardless of their ability to run the ball. Cleveland's biggest threat is return man Joshua Cribbs. Other than Cribbs, the Browns do not pose a threat to put up points necessary to win football games. Cutler's arm should be plenty in this game and expect the Bears to win big.
Dolphins (2-4) at Jets (4-3)

Miami is better than their record but they have been dealt a very difficult schedule thus far. Ronnie Brown is one of the most underrated players in the NFL and the Dolphins run the "Wildcat" like none other. The season ending injury to Chad Pennington will be a factor but not the determining one. The age and inexperience on the defensive side is the issue to this team.
The Jets came out hot this year behind rookie quarterback Mark Sanchez. Rex Ryan came over and implemented his dominating Ravens style defense that forces quarterbacks to move and throw before they're ready. However, things were shaken up a bit as the Jets lost three in a row to New Orleans, Miami, and Buffalo. Sanchez has looked like a rookie since his sizzling start. In the Jets four wins Sanchez has turned the ball over only three times. In the Jets three losses he has turned the ball over nine times. The Jets had the luxury of bouncing back last week as they beat the Raiders 38-0. I do not expect the same success against a division rival this weekend.
My Take:
The first meeting between the two teams was a thriller. Both teams used big plays to put up points as well as timely defense to halt the opponent. Miami is led by running backs Ronnie Brown and Ricky Williams. The Jets are led by running back Thomas Jones. New York is at home and has the edge defensively, but we can't over look the fight Bill Parcells has instilled in this Dolphins team. Both teams will put the ball in the hands of their playmakers rather than their young quarterbacks. Miami showed me something jumping out to that three score lead last week against New Orleans. Mark Sanchez is not Drew Brees. I like Miami in a mini upset this week at the Meadowlands.
49ers (3-3) at Colts (6-0)

I would like to start by apologizing to fellow EBH writer Adam Doctolero. Nothing against the 49ers but the Colts and Peyton Manning are looking as good as ever. San Francisco has made strides this year under first year coach Mike Singletary and should not be over looked. Frank Gore is back from injury and the defense is led by the best linebacker in the game, Patrick Willis. It will be interesting to see if the turn to quarterback Alex Smith offers the 49ers long term to success.
Peyton, Peyton, Peyton. That might be all that's necessary when analyzing the Colts. Peyton is completing over 72% of his passes and has a quarterback rating of 114.5. Needless to say both statistics lead the league. The concern here is that top receiver Reggie Wayne may have to sit this one out due to a groin injury. Second receiver Anthony Gonzalez may or may not be ready to return therefore the options for Manning may be a little thin. The way Peyton is playing right now however, he could probably throw touchdowns to Doctolero and myself.
My Take:
The Niners are on the rise and are defensively sound. Unfortunately for them they must travel to Lucas Oil Stadium to face the NFL's most prolific passer. The Colts welcomed back Bob Sanders last week and the defensive unit is playing well when playing ahead. I like both teams but expect the Colts to roll.
Giants (5-2) at Eagles (4-2)
This will be you traditional slugfest within the NFC East. These games never seem to disappoint. Speaking of disappointing, the Giants have lost two straight. An embarrassing loss at New Orleans and another at home to Arizona has created some skepticism. Eli needs to be precise week in and week out because the Giants do not have a consistent big play threat.
The Eagles in the past two weeks have lost to the lowly Raiders and then beat up the perhaps lowlier Redskins. They have the talent but do they have the focus? They must now adjust to Westbrook being hurt. They carry a stingy defense as usual and they still do have number 5.
My Take:
Eagles are at home and the Giants seem to be reeling. The Eagles also seem to have figured out a successful formula to beat the Giants as well. All that being said I like the Giants. They are much more balanced and usually are well disciplined in every facet of the game. Philly may be short handed with the injury to Westbrook and the home field advantage won't be as significant due to the familiarity between the two teams. This should be your typical battle and a close game is expected, but I give the Giants the edge.
Rams (0-7) at Lions (1-5)

Remember when I said snoozer? Here you go. A game between a team who didn't win a game in 2008, versus a team who hasn't won a game in more than a season. The Rams are dreadful. Marc Bulger hasn't been good in years and the guys he has to throw to you probably have not heard of. The lone bright spots are running back Steven Jackson and safety O.J. Atogwe. They have been playing hard but simply do not have the players to consistently compete, much less win.
Detroit is dreadful, but not as much. Number 1 pick Matthew Stafford, running back Kevin Smith, and wide receiver Calvin Johnson give Detroit fans hope but there's a problem. Stafford has missed the past two games, and Megatron missed the most recent and hasn't practiced so far this week. Injuries to them make it hard for Kevin Smith to do much of anything.
My Take:
I have a feeling this game could be more of a defensive battle than expected. Due to the injuries facing the Detroit offense I cannot see them posing much of an offensive threat. I cannot believe I am saying this, but I like the Rams. If Calvin is indeed out for Sunday the Rams have the best player (Jackson) and they have a better defense than Detroit. Take the Rams and do it well cautiously. Yuck
.

Raiders (2-5) at Chargers (3-3)

The Raiders seem to compete when they feel like it. Two weeks ago they upset the Eagles and one week later was blown out by the Jets 38-0. Both games were at home might I add. Jamarcus Russell is not progressing as an NFL quarterback and the defense has not been as good as last year. The fans remain passionate and every other week the players seem interested. Problem? It's only every other week.
San Diego is everyone's favorite pick to sneak into the Super Bowl. They have talented skill players and sexy uniforms. The issue for them is the o-line and d-line are terrible. Tomlinson is aging and it's noticeable. Shawne Merriman does not seem to be the game changing defensive pass rusher that he was early in his career. The combination of Phillip Rivers, Antonio Gates and Vincent Jackson are the only thing keeping the team afloat.
My Take:
Chargers will win. They better win or they can start scheduling scouts to college games. They are already three games behind the Broncos and the remaining matchup between the two is in Denver. Oakland may play the Chargers tough as they did week one but I would not bet on it.
Jaguars (3-3) at Titans (0-6)

Ah the matchup between two teams who never would have predicted their starts. The Jags' have been another fan favorite over the recent years. Jones-Drew is one of the league's top backs and their coaching and defense has always been solid. Jacksonville's pass defense is amongst the worst in the league. The good news is they get Tennessee who isn't an effective passing team, especially if they start Vince Young.
Jeff Fisher has gone from the #1 seed in the AFC to man wearing Peyton Manning jerseys on his days off. The Titans brought back 20 of 22 starters from a team who went 13-3. They currently are 0-6. Explain it, because I can't and I won't try. I still think they have talent and can win games, but I might be the only one.
My Take:
Mojo is going to get his. He is too good to not. Unfortunately for Jacksonville I feel the same for Chris Johnson. The defenses in this game might as well be a wash. I am going Titans because they are at home and Jeff Fisher is too good of a coach.
Panthers (2-4) at Cardinals (4-2)

The Panthers possess one of the most ridiculous statistics I have ever heard. In their existence they have never made the playoffs two years in a row. Not sure what you attribute that to, but I am going to say quarterback play and an average defense. Advice for Coach Fox, give the ball to DeAngelo Williams and Jonathan Stewart and every so often play action pass to Steve Smith. It can't be that hard.
Arizona is a very interesting team to monitor. Their defense is getting better every game underhead coach Ken Whisenhunt. They still have to work on the running game but the addition of Chris "Beanie" Wells should be beneficial down the stretch. The passing game will continue to shine but teams should not overlook the backs and the defense.
My Take:
You cannot trust anything the Panthers do this season therefore you should not pick them to win. They still have good players but apparently not good enough. Go Cardinals here and do so with confidence.
Vikings (6-1) at Packers (4-2)

The best in the biz travels to Lambeau to take on the pack, and I am not talking Brett Favre. Instead the one I am referring to is All Day, Adrian Peterson. Favre will get the hype and the hoopla and deservedly so, but All Day is what makes this team go. Put eight in the box and Favre will torch defenses, put seven in the box and Adrian may run All Day.
The Packers are coming off two consecutive victories in which they outscored their opponents 57-3. That's pretty good. Aaron Rodgers has become an elite NFL quarterback and the rest of the Packer offense can score points in a hurry. The defense is improving in the 3-4 scheme and should not be overlooked.

My Take:
The biggest question entering the year was how will Favre play and how will Childress use all Vikings' weapons. So far so good. The Vikings offense is potent and Sidney Rice has emerged as the main threat in the passing game. Add AP to the mix and it can be scary. The Packers always play the Vikings hard and will do so again. Expect them to put up points and for this game to go to the wire. Vikings have too many playmakers on both sides of the ball and the Packers O-line is still shaky. Vikings win a nail biter.

Falcons (4-2) at Saints (6-0)
Atlanta has weapons at their disposal. Matt Ryan is the real deal and running back Michael Turner offers stability in the running game. Roddy White and Tony Gonzalez make it difficult on defenses as you can't focus on one option. The defense is improved from a year ago and the team has one more year under their belt. I like this team, a lot.


My second favorite player in the NFL is as definite as the sun setting and the moon rising. Drew Brees is a machine. He makes every throw possible and he does it standing under six feet tall. Very impressive. The Saints are loaded with weapons. Brees will and does throw to anyone on the field. They are scoring just under 40 points a game and the defense is what has this team undefeated. Darren Sharper looks better than ever. They are a legitimate Super Bowl contender.


My Take:
It will take more than the Falcons defense to slow down the Saints. This should be one of the more entertaining Monday nighters of the year. I expect the Saints to win, but not before many big plays by many good players. Pick the Saints and enjoy watching this game.