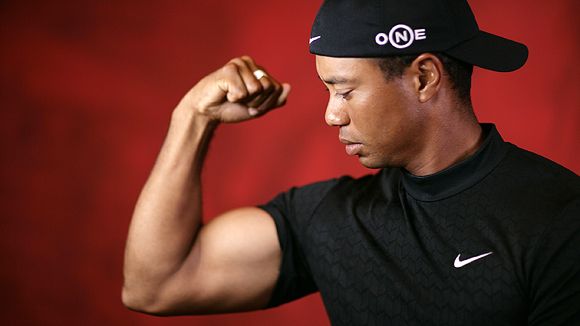 So I've spent the better part of the last few days trying to first digest what was truly one of the best U.S. Open's ever played and second how in the world a man with one leg could have won the damn thing.
The revelation that Tiger Woods prevailed after five days of grueling, pressure-packed golf while at the same time suffering from a ruptured ACL AND two stress fractures in his left leg has left myself and the sporting world as a whole in awe of his major triumph.
What can you really say, other than Woods is the greatest competitor in sports today and probably one of the five greatest athletes to ever live?
Woods' U.S. Open performance makes the comeback stories of Willis Reed and Kirk Gibson look downright weak, and I mean that with all due respect. Those two limped onto the field of play for a matter of mere minutes, while Woods endured five days of the highest level of competition the game of golf has to offer.
Even Woods' close friend Michael Jordan, who famously took the court with the flu in the NBA Finals and led his team to a crucial win, never went through the type of physical and mental anguish that Woods did.
Knowing what we know now of the severity of Woods' injuries, that performance was quite simply one of the three or four best of all time, in any sport.
The fact that he won ten times, came in second twice and fifth once in 13 events since rupturing his ACL running at home in Orlando makes him one of the toughest SOB's anyone has ever seen.
Don't believe me? Go tear your ACL, then walk 15-20 miles over the span of four days for 13 weeks, all the while every 300 or so yards planting your bad leg in the ground and twisting it with as much force as you can. Go ahead and try it, it'll be fun, trust me.
The larger question of course is whether or not it was worth it. Was it worth missing the remainder of the 2008 season and possibly compromising the rest of a career to limp onto Torrey Pines and gut out a 91-hole win?
Only Woods truly can answer that question, and from all that we've heard it obviously was worth the risk. That of course should surprise no one given Woods' track record of success on the biggest stage.
Woods also has a track record of being able to bounce back from surgery and rehab to play at his abnormally high level. I would not be surprised at all to see him right back at Torrey Pines in late January of 2009, hoisting the trophy for the Buick Invitational, a tournament he's won six times before.
So if your name is Sergio Garcia, Adam Scott, Luke Donald or any other non-major winning star, the time is now. The time is now for you to step up and win that elusive big prize because if you don't you're going to have to deal with a healthy Tiger Woods and who knows what could happen if he is able to play on two good legs.
I've joked in the past that Woods is not human. Well the truth is that he's very human, he just might be a little more human than the rest of us. Get well soon Tiger, we can't wait to see what you do next.